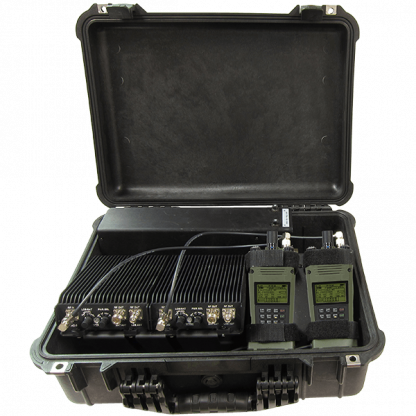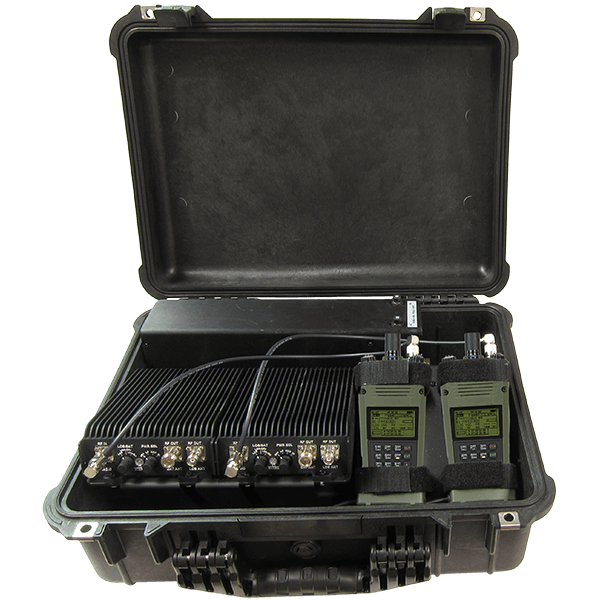 Dual Base Station / Repeater / Retransmit Integrated Case for AN/PRC-163 Radio
ABP-RPT-163-3
The Dual Base Station/Repeater/Retransmit Integrated Case part number ABP-RPT-163-3 for AN/PRC-163 radio is a complete system in a small (19.25" L x 15.3" W x 7.5" H), lightweight (30 lbs.), watertight operation/transportable case that is commercial airline checkable. The system provides dual 50 watts, 30-512MHz multi-band, SINCGARS Frequency Hopping RF power amplification and uninterruptible AC/DC power system.
The case accommodates two AN/PRC-163 radio sets for Base Station/Repeater/Retransmit mode. The radios are mounted on a Jerk-And-Run mount inside the case and operate from uninterruptible power. The ABP-RPT-163-3 is fully automatic. No user intervention is required after initial set up and turn-on.
The ABP-RPT-163-3 Base Station / Repeater / Retransmit case operates from worldwide AC power source (85‑270 VAC / 47‑440 Hz including AC generator, local power grid and aircraft power) or 9‑36V DC power source to include HMMWV, military & commercial vehicles, boat, aircraft and external battery.
The case has automatic AC or DC power source selection with ZERO WAIT SWITCHING technology that provides instantaneously switchover to external DC power or external battery during external AC power failure. Natural convection is provided via integral heat sinks (no fan). An optional External DC input cable with NATO slave HMMWV connector and an External DC cable with cigarette lighter plug are available. An optional High Efficiency Amplified Speaker with special Automatic Level Control (ALC) can be used for local or remote operation.
Internal storage space is provided for AC and DC cables, coax cables, G.F.E. radios and handsets. The ABP-RPT-163-3 space age robust composite case is water/airtight and sand/dust proof. The unit has foldable handle for easy mobility and quick lock latches with internal gasket. The case is padlock lockable and commercial airline checkable.
Including dual 50 Watt Amplifications, AC/DC Uninterruptible Power System, Cables (AC, DC, other) and one Operation / Maintenance manual.