Company Profile
Founded in 1987, Automated Business Power ® (ABP) is the industry leader in design and production of advanced, field deployable Uninterruptible power supplies, AC-to-DC power supplies, DC-to-DC converters, Uninterruptible power systems, Power/Voice/Data cases, Speakers, Speaker/Voice Systems and ancillary equipment for tactical transceivers, power amplifiers, SATCOM and other communications equipment in Command Post, TOC, Shelter, Vehicle, Aircraft and Shipboard.
ABP products operate from almost any AC (85 to 270VAC, 47-440Hz) and DC (9 to 36VDC) power sources world-wide and accommodate operation under extreme arctic or desert weather condition with operating temperature of -40°C to +70°C to match the transceiver operating specifications.
Many thousands of ABP products are in service world wide. FREE technical support for US Government customers is available for each product. All products are Commercial Off The Shelf (COTS) made in USA. ABP is committed to total customer satisfaction while maintaining on-time delivery and competitive prices.
ABP Overview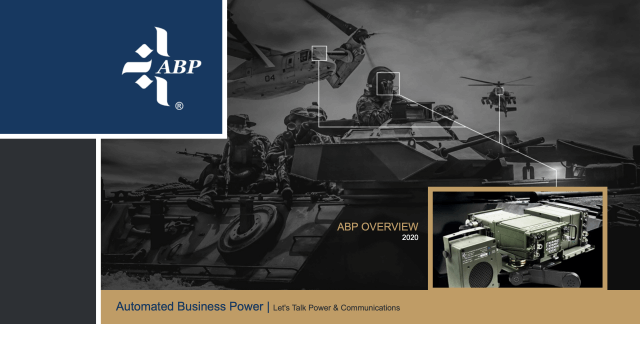 Download ABP's Company Overview
Powering The Warfighters Communications In the Harshest of Conditions.
Employment Opportunities
Custom Products
Our field proven, building block design combined with ABP's proprietary architecture of high power conversion efficiency allows us to tailor, customize, reconfigure and develop our products to meet your specific requirements or unique needs.
ABP uses the highest industrial and military grade components throughout the design and manufacturing process.
To contact Automated Business Power® with your application or requirements call us at (301) 977-5570, Fax to (301) 977-5210 or E-mail to: info@abp.com.
ABP can provide you with on site training for any of the systems which we provide.