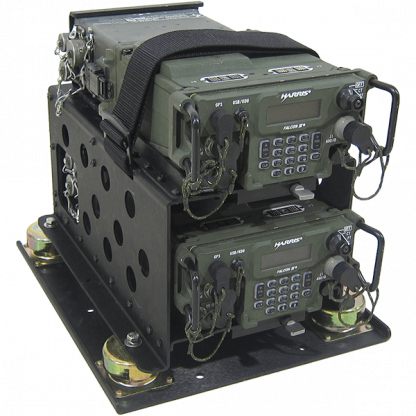 Transceiver Shock/Vibration Rack Mount for AN/PRC-117G(V)1(C) Transceivers
ABP-RM-13
ABP Rack Mount part number: ABP-RM-13 is a Shock / Vibration Rack / Vehicle Mount for two AN/PRC-117G(V)1(C) manpack transceivers together with ABP Transceiver Power Supply™, uninterruptible power supply part number ABP-TPS-1.
The transceivers and the ABP power supply are latched together and attached to the mount with a quick release thumb screw that provide positive lock (no tools are necessary for mounting/dismounting).
The mount accommodates Jerk-And-Run applications as well as vehicle, shelter, aircraft and communication rack installations.
Four heavy duty shock/vibration isolators provide protection against severe impact shock with efficient vibration isolation for off-road applications.
The ABP-RM-13 Rack Mount is direct replacement for the standard military rack mounts and other rack mount adapters.
Available on GSA contract number 47QSWA20D008R. ABP-RM-13 (for the ABP-TPS-1 uninterruptible power supply sold separately or G.F.E.)