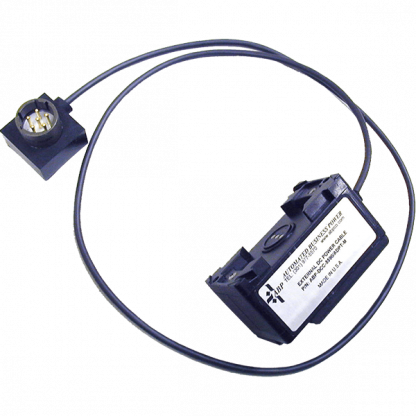 BA-5590 Battery Adapter
ABP-DCC-5590/ADPT-M
Part number: ABP-DCC-5590/ADPT-M
Features
Part number: ABP-DCC-5590/ADPT-M
Applications
Allows the radio to be powered from a standard BA-5590 or BB-390 or BB-590 or BB-2590 communication battery that is readily available.
Small and lightweight unit.
Water/dust/sand proof.
Robust construction with flexible strain relief.
Fits inside a pants/shirt/coat pocket or other container for easy transportation.
For vehicle convoy, Command Post, TOC, shelter, HMMWV, military & civilian vehicles, aircraft, shipboard and portable applications.
Specifications
Weight
5.3 lbs
Dimensions
2.65 × 1.50 × 1.94 in
Storage Temperature
-33°C to +71°C
Humidity
95% Relative humidity
DC Input Voltage (VDC)
9-36
Frequency Band
HF, UHF SATCOM, VHF LOS
Frequency Band (MHz)
30-512
Battery Back-Up for Radio
No
Direct Connect to Radio
Yes
Handset/Headset Quantity
No
Transceiver
AN/PRC-148, AN/PRC-152, AN/PRC-163, JEM, MBITR, RF-335M-STC, RF-7800H-MP, RF-7800V-HH
| Specifications | |
| --- | --- |
| DC Input: | 12VDC nominal (BA-5590 or BB-390 or BB-590 or BB-2590 battery) |
| DC Output: | 12VDC nominal |
| Operating Temperature: | -31°C to +60°C (matches the PRC-148 MBITR & JEM operating temperature) |
| Storage Temperature: | -33°C to +71°C (matches the PRC-148 MBITR & JEM storage temperature) |
| Environmental: | Water proof/sand proof/dust proof |
| Humidity: | 95% Relative humidity |
| Operating Altitude: | 30,000 Feet |
| Size: | 2.65" L x 1.50" W x 1.94" H (only 7.7 cu. in.) |
| Weight: | 5.3 oz (0.15 kg) |