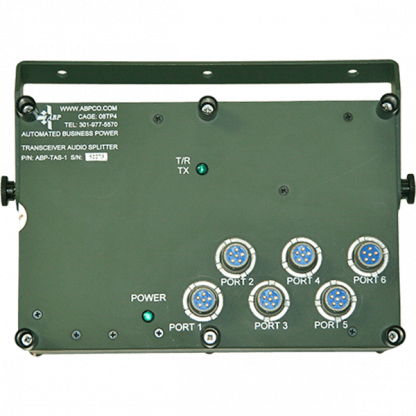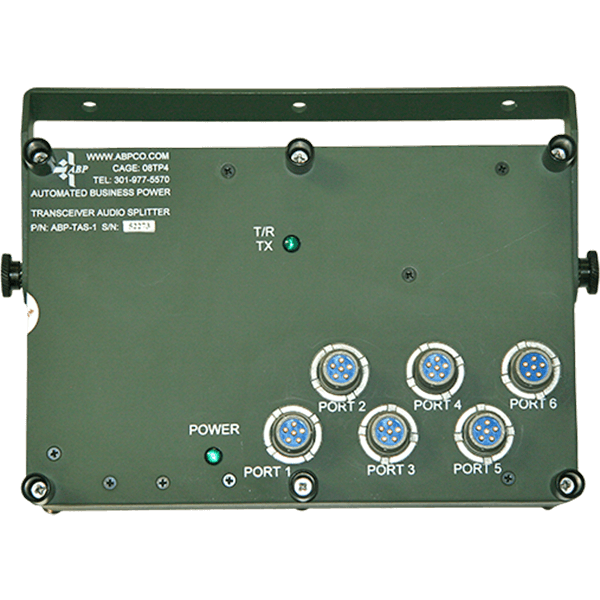 Transceiver Audio Splitter™
ABP-TAS-1
Features
Allow connection of up to six ABP speakers to one transceiver or encryption equipment (any combination of High Efficiency Amplified Speaker™ ABP-HEAS-1 and 6-Net High Efficiency Amplified Speaker™ ABP-6N-HEAS-1).
This versatile unit connects to the standard 5-pin or 6-pin Handset/Headset receptacle located on most Transceivers and Encryption units.
Compatible with all standard military transceivers and encryption units that use standard H-250/U military handset or standard headset.
Six "Transmit Priority" levels are automatically assigned to the speakers connected to the ABP-TAS-1 unit.
Fail safe operation if external DC power is interrupted.
Two Night Vision Goggle (NVG) compatible indicator lights. One for power ON and one for Transmit indication.
Audio input: 1.6 VRMS nominal.
Audio band pass: 300 Hz to 3,000 Hz minimum.
Protected against DC power reverse polarity, voltage spike/voltage surge to 600V per MIL-STD1275, over-current, short circuit and over-temperature.
EMI/RFI filtering. Shielded aluminum enclosure.
Wide range of DC power input: 9 to 36 VDC to include 12VDC, 24VDC, 28VDC, standard military batteries, vehicle power, aircraft DC power, shipboard DC power, ABP power supplies and DC/DC converters. Alternate Power Source compatible.
Water proof/sand proof/dust proof.
Operating Temperature Range: -40°C to +70°C.
Size: 8.75″ W x 5.75″ H x 2.17″ D (109 cu. in.). Easily fits inside the user's ruckshack.
Weight: 3 lbs. 14oz (1.75kg).
Adjustable mounting bracket and 6 mounting holes threaded for 1/4-20 screws.
Commercial Off The Shelf (COTS).
3 Years warranty.
Applications
Speakers System for Transceivers/Encryption equipment in TOC, Command Post, Shelter, HMMWV, vehicular applications, aircraft, shipboard, portable/transportable communication cases and communication systems.
Connect up to six speakers (any combination of High Efficiency Amplified Speaker™ ABP-HEAS-1 and 6-Net High Efficiency Amplified Speaker™ ABP-6N-HEAS-1) to one Transceiver or Encryption equipment.
Interface with standard handset jack on Tactical Transceivers and Encryption units to include AN/PSC-5, AN/PSC-5D, MBMMR, AN/PRC-117, AN/PRC-117F, AN/PRC-119 SINCGARS SIP & ASIP, AN/PRC-138, AN/PRC-148 MBITR & JEM, AN/PRC-150, AN/LST-5, AN/PRC-113, AN/URC-200, MST-20/HST-4, AN/CSZ-1 SUNBURST, KY-57/KY-99 and others.
Automatically assign "Transmit Priority" for each speaker that is connected to the Transceiver or Encryption equipment via the Transceiver Audio Splitter™ ABP-TAS-1.
Create local and remote speaker monitoring of Tactical Transceiver or Encryption equipment up to 1,000 feet (remote radio key and transmit/receive audio).
Specifications
Weight
3 lbs
Dimensions
8.75 × 5.75 in
Environmental
Dust Proof, Sand Proof, Water Proof
DC Input Voltage (VDC)
9-36
Frequency Band
HF, UHF SATCOM, VHF LOS
Handset/Headset Quantity
6
Transceiver
AN/PRC-104, AN/PRC-113, AN/PRC-117D/E, AN/PRC-117F, AN/PRC-117G, AN/PRC-119, AN/PRC-119E, AN/PRC-137, AN/PRC-138, AN/PRC-148, AN/PRC-150, AN/PRC-150C, AN/PRC-152, AN/PRC-154, AN/PRC-155, AN/PRC-158, AN/PRC-160, AN/PRC-163, AN/PSC-5, AN/PSC-5C/D, ASIP, JEM, LST-5, MBITR, MBMMR, MST-20, MXF-400, RF-335M-STC, RF-5800H-MP, RF-5800M-MP, RF-5800R-RC, RF-5800V-MP, RF-7800H-MP, RF-7800M-MP, RF-7800R-RC, RF-7800V-HH, RIFLEMAN, RT-1439, RT-1523, RT-1523E/F/G, TW-135, URC-200