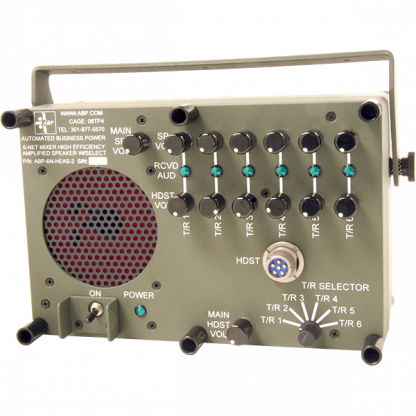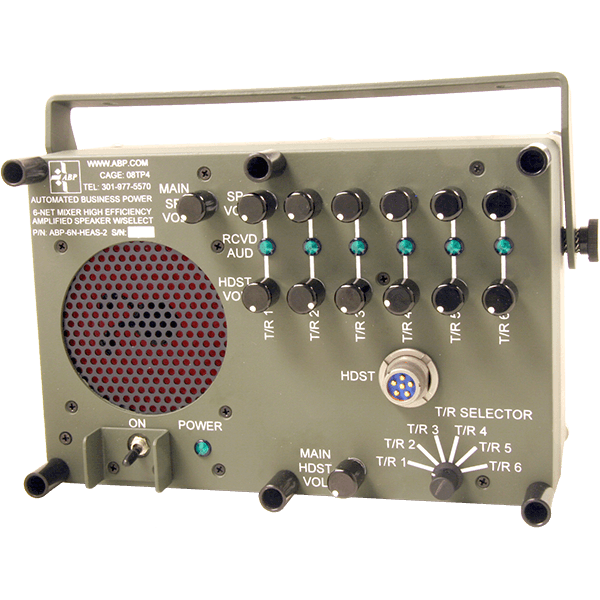 Six Transceivers Amplified Speaker With Radio Selector
ABP-6N-HEAS-2
Part number: ABP-6N-HEAS-2
Features
5 Watts of clear, crisp audio overcomes noisy environment and provides the user with consistent audio clarity at only 0.5% Total Harmonic Distortion (THD)!
Individual special Automatic Level Control (ALC) insures constant audio level at the speaker regardless to the level of the received audio from the transceiver/encryption unit.
A Selector switch allows the user to transmit his voice on one selected transceiver while monitoring the received audio from all the other transceivers.
Special composite mixer for received audio signals from up to 6 transceivers.
One standard military handset/headset (H-250/U or similar type) can be connected to the Amplified Speaker.
Each transceiver has individual volume control for speaker loudness and a separate volume control for the handset/headset.
One Main Speaker Volume control sets the speaker volume for all the transceivers.
One Main Handset Volume control sets the handset volume for all the transceivers.
The individual transceiver is automatically muted at the speaker when the handset/headset is keyed.
Super high efficiency audio amplifier reduces the DC power consumption by up to 50%.
Compatible with all standard military transceivers and encryption units that use standard H-250/U military handset or standard headset.
Seven Night Vision Goggle (NVG) compatible indicator lights. One for power ON and six for reception of received audio from an individual transceiver/encryption unit.
Audio input: 1.6 VRMS nominal.
Audio band pass: 300 Hz to 3,000 Hz minimum.
Protected against DC power reverse polarity, voltage spike/voltage surge to 600V per MIL-STD1275, over-current, short circuit and over-temperature.
EMI/RFI filtering. Shielded aluminum enclosure.
Wide range of DC power input: 9 to 36 VDC to include 12VDC, 24VDC, 28VDC, standard military batteries, vehicle power, aircraft DC power, shipboard DC power, ABP power supplies and DC/DC converters. Alternate Power Source compatible.
Water proof/sand proof/dust proof.
Operating Temperature Range: -40°C to +70°C.
Size: 8.76″ W x 5.75″ H x 3.24″ D (163 cu. in.).
Weight: 5 lbs. 3 oz (2.35 kg).
Adjustable mounting bracket and 6 mounting holes threaded for 1/4-20 screws.
Commercial Off The Shelf (COTS).
3 Years warranty.
Applications
Simultaneously monitors the received audio of up to 6 Tactical Transceivers and Encryption units to include AN/PSC-5, AN/PSC-5D, MBMMR, AN/PRC-117F, AN/PRC-117G, AN/PRC-148 MBITR, AN/PRC-150, AN/PRC-152, AN/PRC-154, AN/PRC-155, AN/PRC-138, AN/PRC-113, AN/PRC-119 SINCGARS, AN/URC-200, AN/LST-5, KY57/99, SUNBURST and others.
Radio selector switch allows one user to transmit his voice over one selected transceiver while monitoring the received audio from all the other transceivers.
Radio or audio monitoring in TOC, Command Post, Shelter, HMMWV, vehicular applications, portable/transportable communication cases and communication systems.
Local or remote monitoring of up to 6 Tactical Transceivers received audio up to 1,000 feet (remote radio key and transmit/receive audio).
Command Post, TOC, shelter, vehicle, aircraft, shipboard, Jerk-And-Run applications.
Specifications
Weight
5 lbs
Dimensions
8.76 × 5.75 in
Environmental
Dust Proof, Sand Proof, Water Proof
DC Input Voltage (VDC)
9-36
Frequency Band
HF, UHF SATCOM, VHF LOS
Handset/Headset Quantity
6
Transceiver
AN/PRC-104, AN/PRC-113, AN/PRC-117D/E, AN/PRC-117F, AN/PRC-117G, AN/PRC-119, AN/PRC-119E, AN/PRC-137, AN/PRC-138, AN/PRC-148, AN/PRC-150, AN/PRC-150C, AN/PRC-152, AN/PRC-154, AN/PRC-155, AN/PRC-158, AN/PRC-160, AN/PRC-163, AN/PSC-5, AN/PSC-5C/D, ASIP, JEM, LST-5, MBITR, MBMMR, MST-20, MXF-400, RF-335M-STC, RF-5800H-MP, RF-5800M-MP, RF-5800R-RC, RF-5800V-MP, RF-7800H-MP, RF-7800M-MP, RF-7800R-RC, RF-7800V-HH, RIFLEMAN, RT-1439, RT-1523, RT-1523E/F/G, TW-135, URC-200