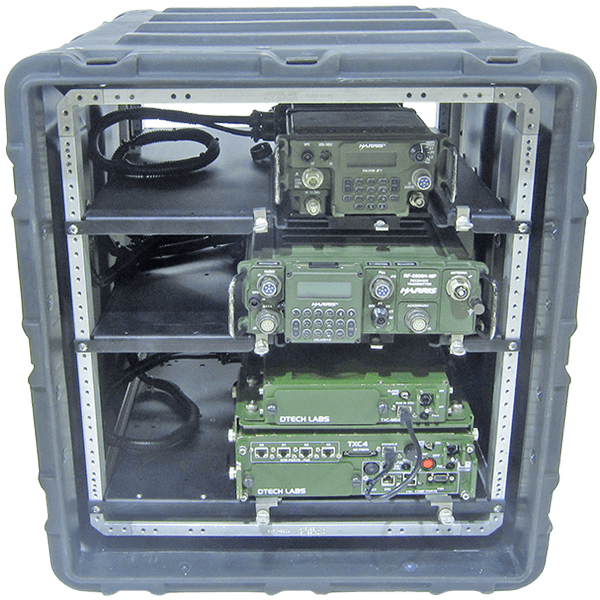 ABP Part Number: ABP-ITCC-6L. The ABP-ITCC-6L Integrated 2 Transceivers DTECH TXC4 Communication Case (ITCC) is a complete uninterruptible power, voice and data system mounted in a small watertight transportable case that has removable lids. This rapid deployment, portable, Enroute communication Case provides uninterruptible power with battery back-up and accommodates the DC power and voice requirement of 2 Transceivers and 1 DTECH TXC4 tactical router/network gateway. The transceivers and gateway are securely mounted on a Jerk-And-Run mount inside the case.
The ITCC saves many BA-5590/U batteries and will pay for itself after only one month of operation by eliminating extensive and expensive battery replacement while conserving batteries for critical missions. The ABP-ITCC-6L contains high efficiency AC and DC power supplies, rechargeable backup battery packs, charger, control circuits and internal power strip that allow the user to operate the transceivers and speakers from any AC power source worldwide (85-270 VAC / 47-440 Hz including AC generator, local power grid and aircraft power) or 9-36V DC power source to include HMMWV, military vehicle, 12V commercial vehicle, boat, aircraft.
Three power units supply uninterruptible power to the transceivers and gateway while charging their internal rechargeable backup batteries that automatically power the transceivers, gateway and speakers during an AC or DC power failure. Each 26.5V/2.4AH internal battery pack is a modular, removable, high density, rechargeable battery with the same capacity as the BB 490/U battery at half the size and 3/4 weight! Operating status of the unit is provided to the user via three Night Vision Goggles (NVG) compatible test indicator lights and a TTL logic output.